SPORT IS ART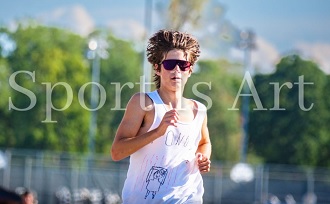 JOSHUA CHU: 5000 meter heat champ at New Balance Nationals!
Ponderosa High Track And Field Are CHAMPS!
<! embed youtube -->
You must be a cleared student athlete in order to attend practices. This process is completed online here ATHLETIC REGISTRATION and also requires a recent physical. Student athletes are expected to be on time to practice and come prepared physically as well as mentally to work hard each day completing all aspects of the workout assigned; activation/warm-up, work out, and cool down including stretching and injury prevention techniques assigned. Athletes are expected to come to practice with appropriate work out attire and their own water bottle. All league meets are mandatory for any in the program and athletes must stay for the duration of the entire meet. Many of the Friday/Saturday meets are for qualifying athletes only. Hosting junior high track athletes is part of our "give back to community" philosophy and these meets are mandatory as well. All athletes must agree to our program handbook along with parent/guardian agreement, athlete and parent/guardian must be registered with XCStats (use code "digdig!"), volunteer at least 4 additional hours of program building time and participate to raise funds for the team. We look forward to a repeat League Championship Title like the results from the 2017, 2018, 2019, 2020, 2021 and 2022 track seasons for the Bruins. Hope you will join us in the journey! Always working hard to get better! GO BRUINS & PONDO PRIDE FOREVER!!!!!! Coach Karen Norwood
Our NEW RECORDBOARD!! is designed to encourage all current Ponderosa T&F Athletes to shoot for taking names off of the top 5 all time T&F marks in order to see their name up on the board. Check out the Record Board ... THANK YOU JARROD!